~This post is sponsored by Walmart and contains affiliate links.  The opinions presented are all my own.
Back to School Shopping at Walmart
This school year is going to look a lot different.  Some families will be keeping their children home from school opting for a virtual experience, while others may choose to send their children back to school in person.  Perhaps your child's school has made the decision for you, and all students may be beginning the year online.
We have made the tough decision to keep our daughters (12 and 10 years old) home from school for at least the first nine weeks.  They will be doing a synchronous online program in their District, which will include daily live remote instruction.  While this situation is not ideal, I believe that parents can shape their children's attitudes towards this "new normal."  I'm trying to be as positive as I can for my kids (at least in front of them) letting them know that this is temporary.
Back to School Shopping has been a tradition with my girls since they started school.  I promised them we would still shop to get everything they needed for learning from home.  Whatever way your child will be beginning the year, Walmart is here to help.  From fashion to supplies and organization, you can find all you need for Back to School at the very BEST prices!
Back to School Shopping for Clothes
Even though our daughters are going the cyber route, I think it will be good for them to get into a routine of getting up each morning, getting dressed, and logging on to their Google Classrooms.  Both of my girls are growing like weeds, and they needed new clothes.  As a mom, I love Walmart because you get so much more for your money!
They wanted to pick out some cute and comfy tees, jeans, shorts, and leggings.  Gabby, my older daughter, loves the Juniors' department.  Her younger sister, Taylor, is in between sizes right now and likes to shop both the Girls' and the Juniors' sections.  She prefers the Juniors' tops, but she still needs the pants from the Girls' section.
My husband and I have been taking turns going shopping so that we don't have to bring the kids into stores right now.  I had my girls look on Walmart.com to search for some new clothes.  Since I was heading to Walmart for groceries, I picked up some of the items from the girls' wish lists.
Here are my daughters' Walmart fashion favorites…
These tops come in a variety of colors.  They look great with shorts, jeans, or black leggings.
Gabby loves these rib knit tie front tanks.  When she likes something, she wants one in every color – she gets that from her Mama!
These basic tees are stylish and simple, and they come in a variety of solid colors.
Comfy and cute, this long sleeve shirt is perfect for cooler days ahead!  '
Camouflage is all the rage for young girls.  My girls both wanted one of these!

These jeans are so well-made.  I couldn't believe the price!
Okay, so I had to laugh at the product name of "Mom Jeans."  Who knew they would become a trend again?  They are actually super cute!
Taylor just had to have these skinny jeans.  The print is absolutely adorable!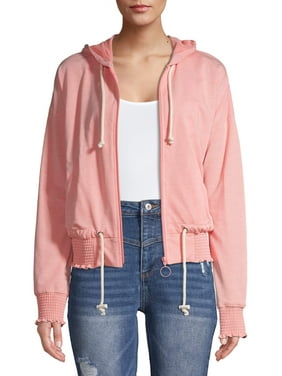 This Walmart best-seller hoodie from No Boundaries features a cute elasticized waist with a drawstring tie.
Stay cozy and on the cutting edge of fashion with this stunning Urban Retro Juniors' Distressed Denim Jacket.
My girls are all over these cute short overalls from No Boundaries!
Back to School Shopping for Supplies
What kid (or teacher) doesn't love fresh school supplies?!  I wanted to get both of my girls new supplies so they can get their desks organized for home learning.  Walmart has some great deals on writing supplies, binders, notebooks, and just about everything you need!
I picked up two of these Inspiration Art Cases by Crayola.  My girls may be getting older, but they still love to draw and design things.   Art is the best therapy, and it is such a wonderful outlet for kids with everything going on in the world.  I highly recommend this set.  It has everything you need, and the sturdy case makes a nice lap-board.
This Sargent Art Gel Pen Set of 100 Pens is also a great value.
Back to School Shopping for Decoration and Organization
If you are choosing the home learning option as well, creating an organization space on a budget might help your kids get excited about the idea.  Walmart has furniture, organizers, and so much more!
Just as "flexible seating" has become popular in schools, you can give your child options so that he/she can mix up positions throughout the day.  The  Big Joe Chairs at Walmart are AWESOME!  A few of my coworkers use one as their Author's Chair in the classroom.  They are also great for kids' rooms at home!
You can find this Pen + Gear Desk Organization 5 Piece Set to help your child organize all the things!
Ready, Shop, Go!
Walmart is committed to providing a safe shopping experience for its customers.  If you aren't comfortable going into stores now, you can shop online and Walmart will ship for free.  You can also order online and pick up at the store.
I hope that this post has given you some ideas for Back to School Shopping this year!  Whatever way your child will be learning, Walmart has everything you need at great prices.